I'm a ballerina by nature...and although you might not be able to tell it now, at one point in my life i moved with significant grace and agility; then i reached the age of 21 and began stumbling blindly through the day... usually with a drink and other sorts of bad habits. So any and all pics of the quintessential pink tights, toe shoes and tutu's always catches this wayward dancers eye! Degas, of course, is usually the artist of choice and my dressing room is adorned with Lladro dancers, but lately i have been searching for the UN-quintessential tights and tutus and happened to stumble across these pics...
Model Freja Beha Erichsen, who is photographed by Craig McDean in devilishly high ballet slippers and fashions from Ann Demeulemeester, Alexander Wang and Roberto Cavelli... can you say OUCH!!!! i thought REGULAR toe shoes hurt hahaha
The "bad ass Ballerina" it's kinda like the "naught school girl"; quite hard to find but such a good time if you do...
these shots show how far the "prissy" image of a ballerina has come... cuz let me tell YOU.. there's nothing nice about a mad swan!!
and my favorite.....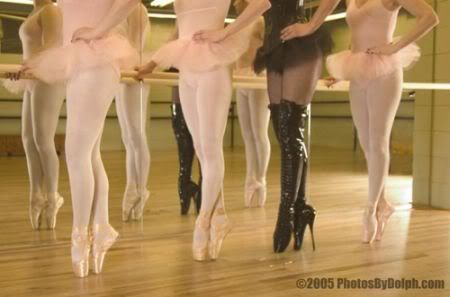 Just because....